Recently LIC of India has added a new feature to its online service and ie Online loan on LIC policy. Now you can apply for a loan on your eligible LIC policy through LIC e-Services portal in simple steps. This service is available to the customers who are already registered for Premier Service in LIC portal. If you are not registered you can do this before applying for a loan, though the registration process will take little time.
After this update by LIC of India, you do not have to visit your LIC service to branch to take a loan. You can submit the request form and other documents to your nearest branch to take the loan on your LIC policy. 
So, how to apply for an online loan on LIC policy? The whole process is summarised in  four simple steps below:
First thing First: Login to LIC e-Service
So, it's obvious that you have to log into LIC e-Services portal to apply for a fresh or subsequent loan, though you can repay the loan without logging in to the portal through direct payments.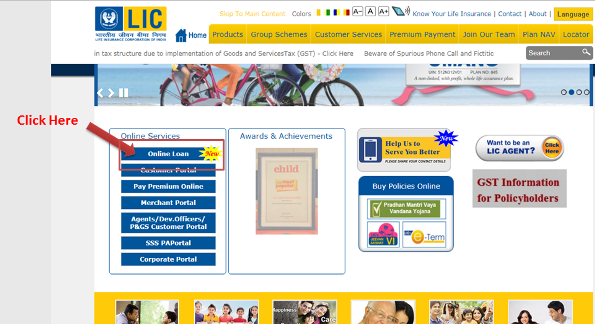 When you click on the Online Loan button you will be redirected to a new page (given below). This page has three options, Direct repay Loan, repay the loan through customer portal and Online loan request through the customer portal (I will illustrate about this).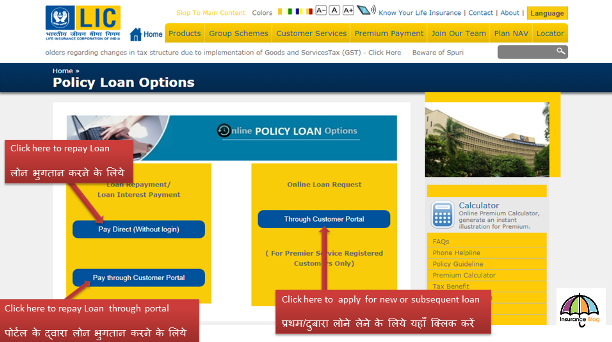 To take a loan, you have to click on "Through Customer Portal" under Online Loan request area. You will be redirected to login page. In the login page, you have to enter
Your user ID/ email ID/ mobile number (registered)
Your password for portal and
Your date of Birth as per policy records.
Step 1: Customer Validation
After successful login customer will see the  Customer homepage as below. To request a loan, hover the mouse over the Premier Services tab and a new menu will appear, under that menu select Online Loan Request under Service Requests.
When you click the Online Laon Request option a new page will open where all the terms and conditions are written, you have to check the I Agree Box and click on Proceed to go to next step.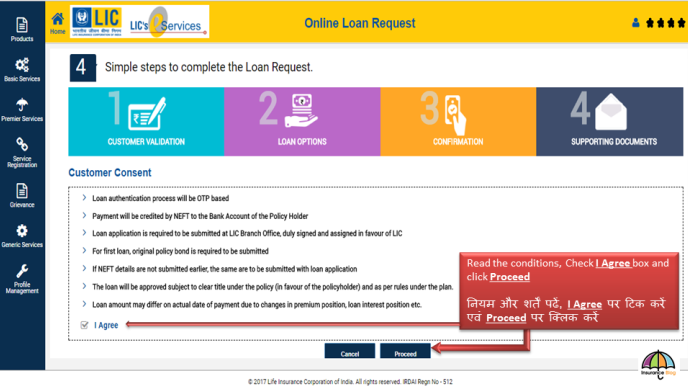 When you click the Proceed button a new page will open for Customer Validation. You will receive a One Time Password (OTP) on your registered mobile. Enter the OTP in provided space to validate and proceed the process of Online Loan on your LIC policy.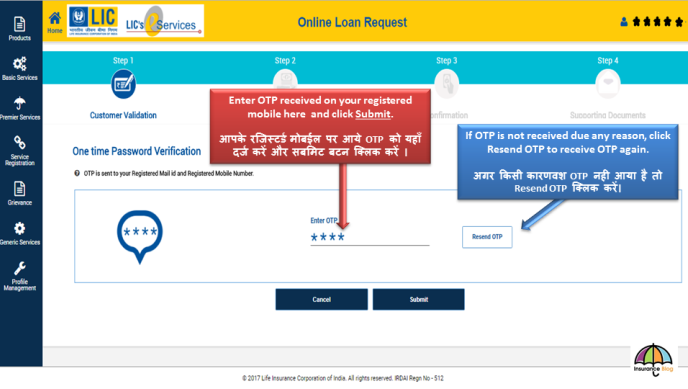 Step 2: Loan Option
After successful validation through OTP, you will be redirected to a new page of Step 2: Loan Option. Here you will see a drop-down list of your policies which are already registered for Premier Services. Select any policy on which you want to take a loan.
If you have never taken/no outstanding loan on your selected policy, you will see the amount of loan amount you can take from LIC. Select the option of Full eligible loan disbursement or Partial amount of your choice click next.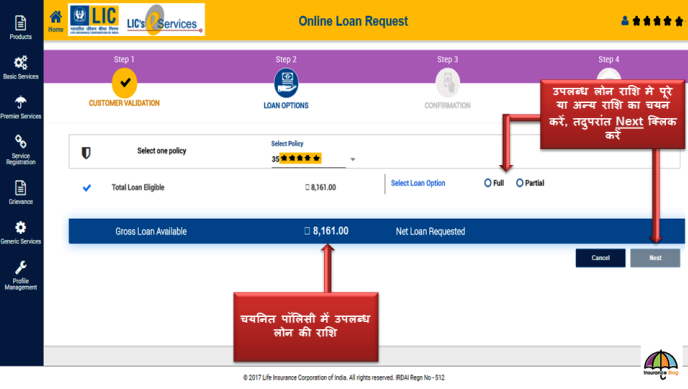 If there is a loan already taken on your policy, you will see the Total loan eligible on your policy, outstanding loan on your policy, Interest due on the outstanding loan as on date and Net available amount of Loan. Repeat the same steps as mentioned previously ie Select the option of Full eligible loan disbursement or Partial amount of your choice click next. See the screenshot of the same below.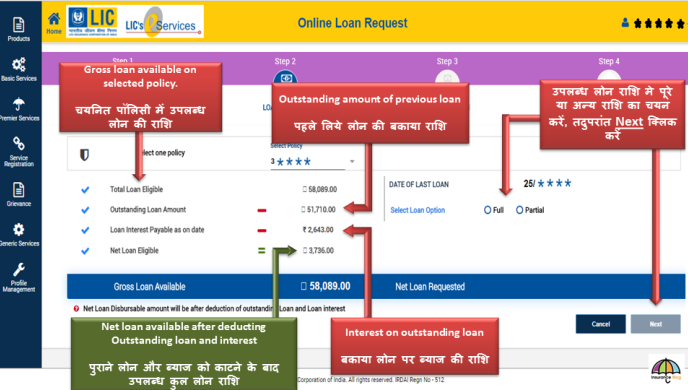 Step 3: Confirmation
When you click Next on the previous page, you will be redirected to the confirmation page. Here you will see
Net amount of loan selected by you in the previous step
Your Bank account details registered with LIC (If not available you have to submit the NEFT mandate form along with bank account details)
Name and address of your LIC service branch.
If you want you can go back to the previous step and change the loan amount according to your need or change the policy on which loan is required. If all the information is OK then proceed to final step by clicking Yes.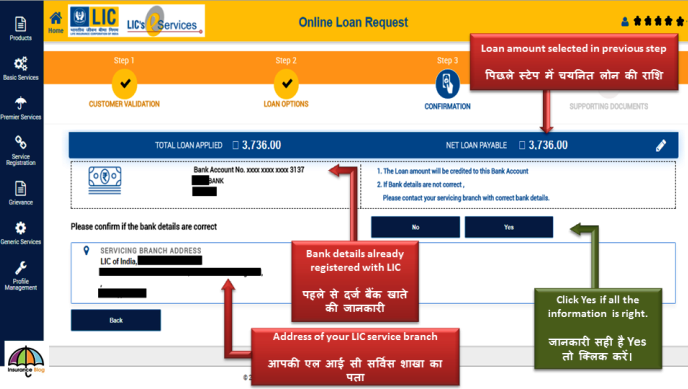 Step 4: Supporting Documents
When you click Yes on the confirmation page, LIC portal will generate Service request Number. You will see 3 buttons below the Service request Number, 
Service Request
Policy Loan Application
NEFT Mandate form (Only active if Bank details are not registered)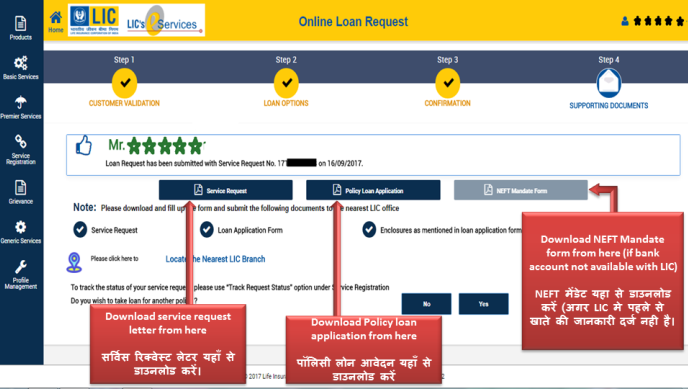 Note down the service request number and download the required forms by clicking all the above-mentioned buttons. Sign the downloaded forms submit the request with relevant documents to your nearest LIC branch. List of required forms is given below
Service Request Form
Policy Bond (In case of First Loan)
Policy Loan Application form (with your signature)
NEFT Mandate Form (In case of Bank details not registered with LIC)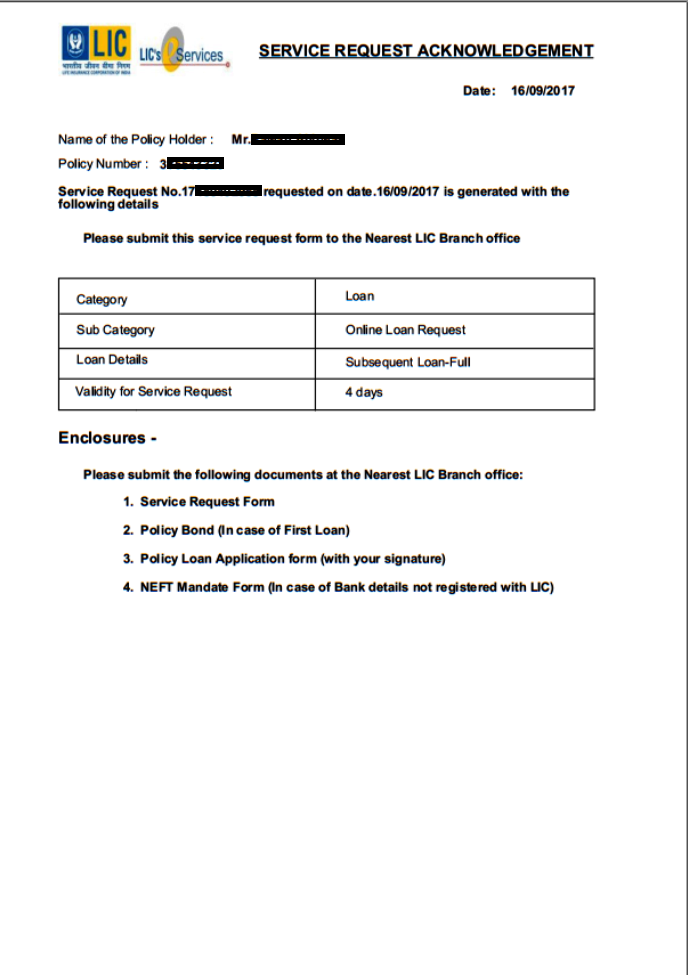 Please keep in mind that this Service request will be valid for 4 days only. If you fail to submit the required documents on time to any LIC office then your request will be stand cancel and you have to make a new loan request.
Conclusion
This is not a fully online process because the customer has to submit the policy bond to LIC (which is assigned in favor of LIC up to liable amount till the principle with interest is repaid). This is the first payment (to policy holders) related online service provided by LIC of India. The best features of this service are:
The customer doesn't have to depend on someone/agent to check the loan eligibility on their policy or to complete the form and he/she don't have to visit the service branch.
Loan taken on LIC policy has the lowest rate of 9.5% per annum simple interest (Compound interest if two half-yearly interest due are not paid).
Loan amount available is according to surrender value of the policy and no approval of loan is required.
No EMIs, deposit interest every six months, dates of interest payments are aligned with the policy premium due date.
Repay the Principle amount according to your convenience at any time and anywhere, online repayment is also available now.
Risk cover on the policy is continued if all the premiums are paid on time.
Survival benefits if any will be adjusted in the loan if any outstanding.
For any query,  you can drop your comments below. You can directly contact your LIC branch or LIC Customer Zone. Find the contact details of  your nearest LIC Customer Zones Here