Club membership for agents is one of the ways Life Insurance Corporation of India rewards its agent for higher and consistent performance. Until May 2014 the highest club was the corporate club and after that Chairman Club was there. There is a huge difference between the eligibility criteria of the corporate club and Chairman Club. In May 2014, LIC of India introduced a new club between the corporate club and Chairman Club named, Club Galaxy.  One of the reasons behind the introduction of Club Galaxy was to motivate the agent to qualify for MDRT (Million Dollar Round Table) and therefore eligibility criteria of Club Galaxy are synced with qualifying conditions of MDRT.  Let me share some important point and conditions of Club Galaxy here:
Membership Year for Club Galaxy
The year in which agent become a member of the club is known as Membership year. For Club Galaxy, membership year is 1st September to 31st August like other clubs. The financial year after which an agent becomes the member of a particular club is known as the qualifying year. Therefore, the first qualifying year was 1st April 2014 to 31st March 2015 and first membership year for Club Galaxy is 1st September 2015 to 31st August 2016.
Eligibility criteria for Club Galaxy Membership year September 2017 to August 2018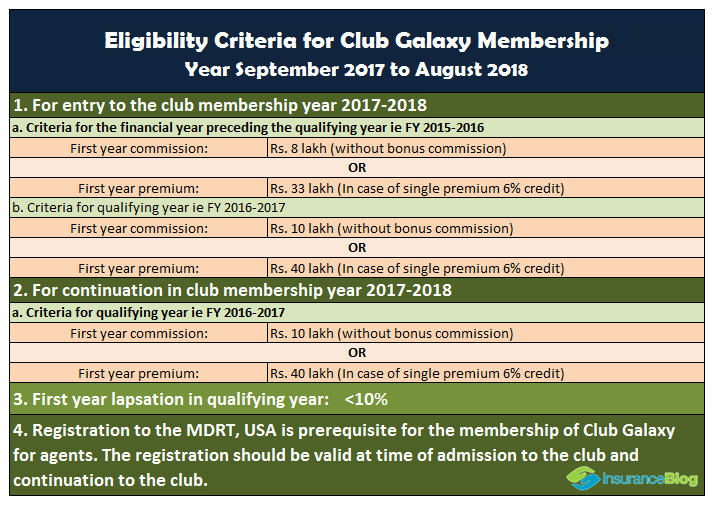 Benefits of Club Galaxy for agents
Fringe benefits of the Galaxy Club are not linked with any other club for agents; following fringe benefits will be given to the member of Club Galaxy
Office Allowance: 50% of the actual expenses for maintaining the office or Rs. 100000 whichever is lower will be reimbursed to the agent at the end of the membership year.
Telephone Facility: Maximum reimbursement of Rs. 12000 per annum for rental and call charges of Landline/Mobile phone.
Supply of letter heads envelops and visiting card: Letter head and envelops-500 Nos each per annum and Visiting card-500 Nos per annum.
Club Convention: Members of the Galaxy Club will be allowed to attend the convention at the place decided by the LIC of India or reimbursement of actual airfare or Rs. 60000 whichever is lower for attending MDRT meet. Club agent will also be eligible for out of pocket allowance of Rs. 10000 for attending the MDRT meet. Club Galaxy members will also be eligible for the reimbursement of MDRT registration fee.
Club Blazer: Rs. 5000 for club blazer as per the color and pattern decided by LIC. Earlier club blazer was only provided to corporate club members only.
Other benefits: Daily allowance, group insurance, Medi claim and complimentary diaries will be same as it for Chairman Club member agents.
Advances to Club Galaxy agents
Agents who are qualified and continuing in the Galaxy Club will be eligible for various advances against renewal commission as per the 'Scheme of Advances to the agents'. Conditions and quantum of the advances are same as per the conditions for Chairman Club member agents except Four wheeler advance which is: Actual prize of the car OR Last two years renewal commission OR Rs. 10 Lakh, whichever is less.