Have you forgotten the FUP (First unpaid premium) of your  LIC policy? Now there is an easy way to know it using your android phone. So, what you need to do to know the FUP of your LIC policy?
My LIC android Application
My LIC is an android application. It is developed by LIC of India for only and only one thing, ie, to know FUP of your policy instantly. So where to get this app on your mobile?
You can download this app directly from Google Play or you can visit the link by clicking on the My LIC logo provided below from your android mobile and it will redirect you to My LIC application page in google play.

How to know FUP of you LIC policy with My LIC app?
After you have installed the app on your android mobile, start it. When the app start you will land on the first screen (please see the image below)


Press the continue button and you will be directed to the second screen where you have to input the details related to your policy.


Please take care following things in mind while entering the data
your policy number is of nine digits (123456789)
Enter premium without service tax. To know your exact premium refer your policy bond.
Enter date of birth as per your policy record, you can again refer policy bond to know the date of birth in your policy record.
After entering the data, press SUBMIT button. Application will fetch the details and new screen will open with the relevant data as shown below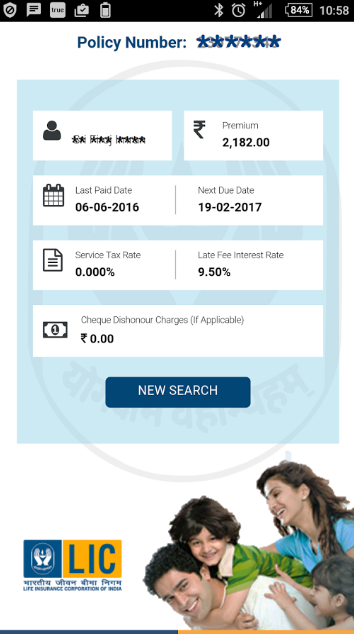 In this screen, you will get following data
Your policy number
Your premium without service tax (if any)
The last premium paid date
Next premium due date (FUP)
Service tax rate (if applicable in your policy)
Interest rate (for late payments)
Cheque dishonor charges (if the last premium paid by cheque and cheque got dishonored)
this application is only to know the FUP of your policy. For more details you can use LIC Mobile app and you can register for LIC e-Services.
All You Need To Know About LIC E-Services
LICMobile – A Useful Mobile App For LIC Policyholders