With a increase in the use of smartphones, many financial institutions have come up with their mobile application to provide anytime and anywhere facility to the customer. LIC of India have also build a mobile application called as LICMobile. LICMobile application is developed by LIC itself and currently available for the android platform only through Google Play.
LICMobile
LICMobile application is useful for not only policy holder, but it is very useful and handy tool for LIC agents also. LICMobile provides two different service broadly, ie Tools and Online Services.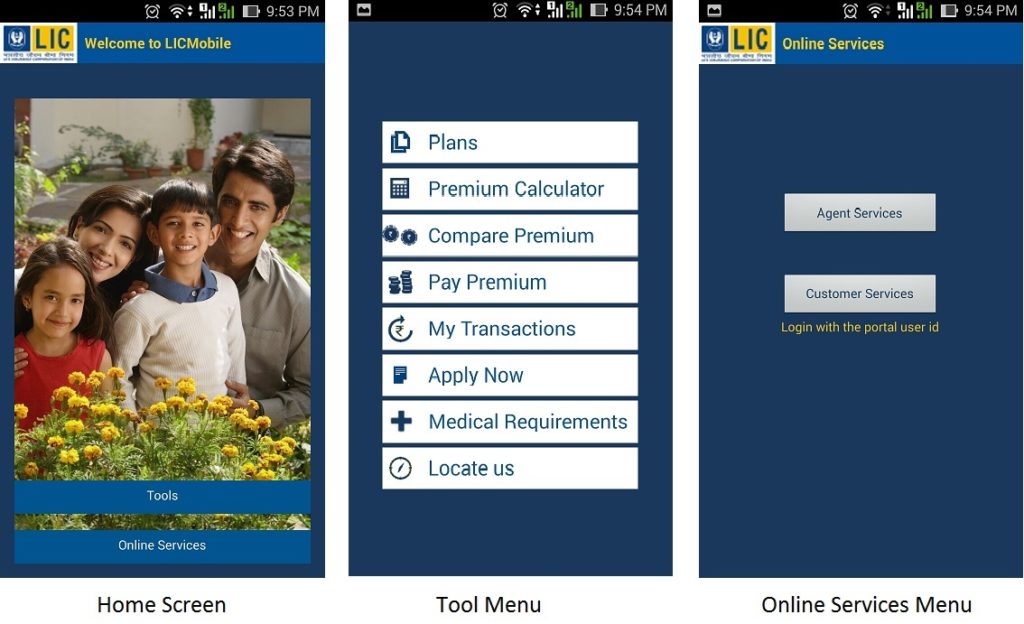 Tools Menu
Tools menu have various options related to LIC Plan details and feature, premium calculator, Online premium payment menu and other tools for policy holders as well as agents
Plan Menu
This menu provides the details about the various plan offered by the Life Insurance Corporation of India. You can see the plan features and plan parameter using this menu.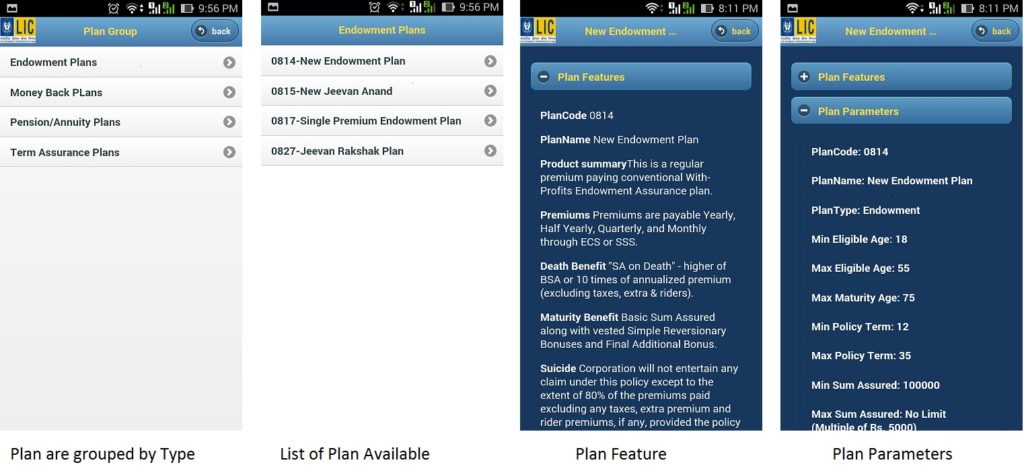 Plan Calculator and Compare premium menu
You don't have to go to a branch of LIC of India or call a agent if you just want to know the premium of a particular, or you want to compare premium of different plan before you finally buy policy. Tool menu of LICMobile have two different menu in it namely Plan Calculator and Compare Premium menu. Using plan calculator you can know the exact premium of particular plan. You have to choose a plan, enter you age, plan term you want to take and sum assured on which you want to know the premium. Premium shown using this menu do not include service tax, you have to manually add service tax as per the prevailing rates (To know the service tax on insurance premium click here). With Compare premium menu you can know the premium under different plans on the same screen, helps you to know the premium of different product under same category.
 
Pay Premium and My Transaction menu
Do you miss the premium payment of your policy on time due to your busy schedule? Or you don't want to wait and stand in a queue. Then, this is a very useful tool for you. You can pay premium of your policies right from your mobile phone. Just Enter your policy number, date of birth, premium (please enter the premium without service tax), your mobile number and email Id. You can pay premium using Net Banking and debit card or credit card. All the transactions done by you using LICMobile app are stored in My Transactions. You can see then any time you want using this menu.

 Locate Us and Apply Now Menu
New to a city and want to know the address of LIC branch. This app have locate us menu allow you to locate nearest branch to you. Using the branch code you can directly get address of that particular branch or browse zone wise list.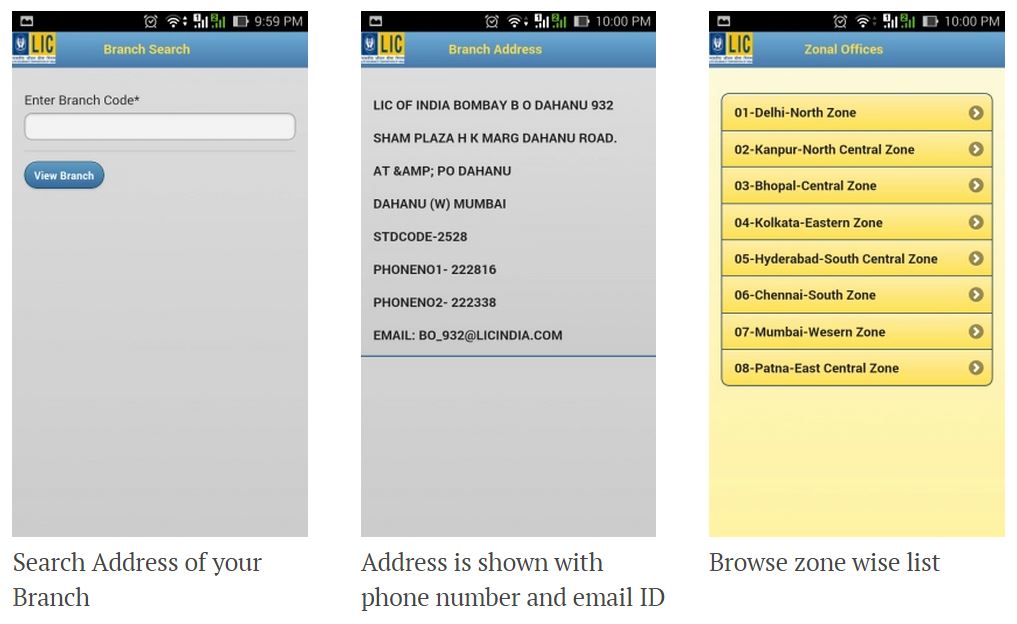 You can also apply for new LIC policy,  you just have to choose state and city from the drop down menu in which you live,  and enter your contact details using the Apply Now Menu and a LIC representative will be in your contact with in a day or two.
Online Services Menu
Online services menu in the LICMobile is for both LIC Agents and Policy Holders. If you already have LIC customer portal ID and Password then you can login to view your policy details and know the status of your policies (If you do not have LIC customer portal ID and Password then create one by following this LINK)

View Enrolled Policies
After you logged in as a policy holder,  you will see two options namely Enrolled Policies and Policy Calender. By entering in the Enrolled policy menu you can see all your policies which your have previously enrolled through LIC customer portal. You can view the status of your policy by clicking the policy number.

Premium Calender
By entering the Premium calender menu,  you can see all the premium due in the year month by month. It will only show the policies which are paid by hand. All other policies where premium payment is through Salary saving scheme (SSS) mode or Electronic Clearing Service (ECS) mode will not be shown here.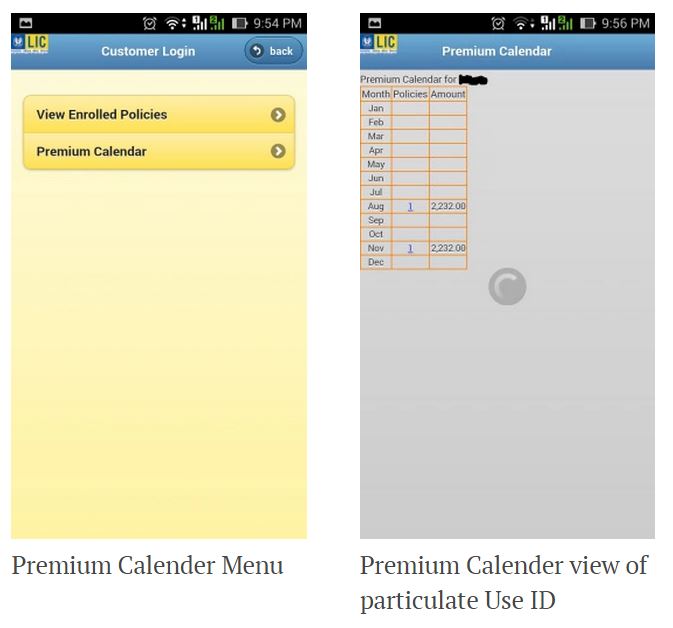 Customer can only see the policy details if they are logged in and policies are already registered in the LIC customer portal.
LICMobile can save a lots of time for a policy holders and keep the policy holders informed about the status of their policies. For more detailed view customer can log into LIC customer portal, which have lot more other options for policy holders like revival quote, agent locator, premium paid certificate and many more.