As announced by the Government of India regarding the pension plan for senior citizen of India (Aged above 60 years) in last financial year, the Government of India has announced the Pradhan Mantri Vaya Vandana Yojana (PMVVY) Plan No. 842  for citizens aged 60 year and above.
Pradhan Mantri Vaya Vandana Yojana (Plan No. 842) is a pension plan with subsidized pension rates which will provide an assured return of 8% per annum payable monthly (equivalent to 8.30%  per annum) on the pensioner surviving during the policy term of 10 years.
This plan is available for sale from 04/05/2017 through LIC of India. This plan will be available for sale up to 03/05/2018 (one year). Unique Identification Number (UIN) for Pradhan Mantri Vaya Vandana Yojana is 512G311V01.
Eligibility Conditions and Restrictions: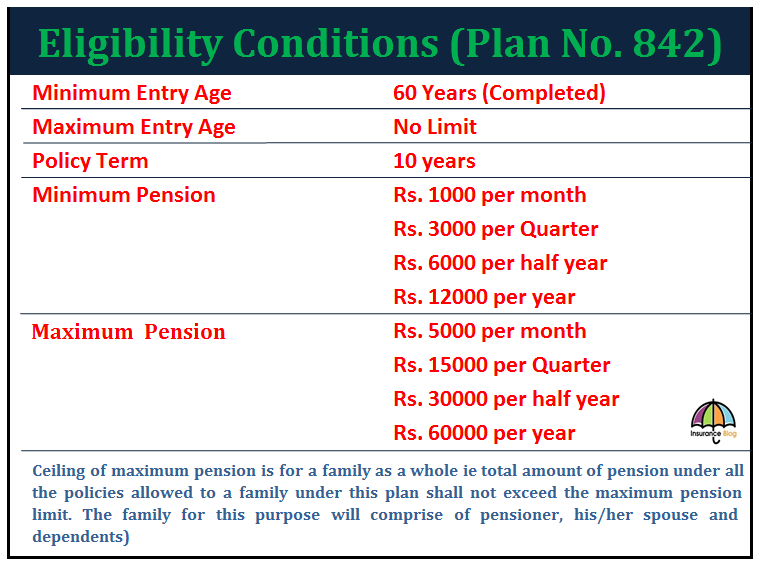 Purchase Price in Pradhan Mantri Vaya Vandana Yojana (PMVVY)
This plan can be purchased by payment of a lump sum Purchase Price. The pensioner has an option to choose either the amount of pension or the Purchase Price.
This plan is also available for online sale from LIC of India website, you can visit the page directly by following this link.
The minimum and maximum Purchase Price under different mode of pension is given below
Benefits of Pradhan Mantri Vaya Vandana Yojana (PMVVY)
Benefits payable under PMVVY are
1. Pension Payment
Pensioner will get the pension during the policy term, pension in arrears (at the end of each period as per mode is chosen by the pensioner) will be payable.
2. Death Benefit
On the death of the pensioner during the policy term, the Purchase Price will be refunded to the nominee (or legal heirs in absence of nominee)
3. Maturity Benefits
On survival of pensioner to the end of the policy term, Purchase Price and final installment of the pension will be paid to the pensioner.
Mode of pension payments and Pension rates in PMVVY
The pensioner can choose the pension mode as per his requirements, pension modes which are available are Yearly, Half-yearly, Quarterly or Monthly.
Pension rates for different modes of pension payments for Rs. 1000/- Purchase price are
Yearly:          Rs. 83.00 p.a.
Half Yearly: Rs. 81.30 p.a.
Quarterly:    Rs. 80.50 p.a.
Monthly:      Rs. 80.00 p.a.
Other features and Benefits of Pradhan Mantri Vaya Vandana Yojana
Policy can be surrendered during the policy term under exceptional circumstances like pensioner requires money for treatment of any critical/terminal illness of self or spouse. Surrender value payable will be 98% of purchase price.
Loan Facility available after completion of 3 policy years, maximum loan payable will be 75% of purchase price. Interest on the loan will be recovered from the pension amount.
There will no exclusion on the count of suicide and full purchase price will be payable to the nominee.
Free look period,

15 days available from the date of receipt of policy bond if the policyholder is not satisfied with the "Terms and Conditions" of the policy.

Assignment as per Sec 38 of Insurance Act 1938 allowed only in favor of LIC of India (in the case of Loan taken on policy). Nomination required as per Sec 39 of Insurance Act 1938
The pension will be paid through NEFT or Aadhaar Enabled Payment System.